Beware Of Dent Nomads Claiming To Repair Your Dents Or Dings In Shopping Center Parking Lots
Indianapolis Buyer Beware
Dent Nomads in parking lots and shopping centers claim to have the answer to your dent and ding repair.  These Dent nomades (aka Dent Gypsies) are hell-bent on taking your money and usually end up costing you more in the long run!   As the seasons change to more desirable weather and people start to wash the winter dirt off of there vehicles Killa Dent Removal becomes busy removing those unsightly dents and dings with paintless dent repair. But you're not the only ones noticing the dents and dings in your vehicles.  Dent nomades (aka Dent Gypsies) are not concerned with actually providing you with a high-quality repair, they're looking to turn a fast buck and probably won't doing anything but damaging your car, truck or SUV.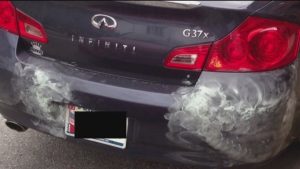 The Dent Nomads Scam
Dent nomads make a living by pointing out the damage to your car in parking lots or shopping centers as you go about your day or do your shopping.  They usually have a high-pressure pitch selling you on getting your car fix on the spot.  Dent nomads can be quite convincing, they push to sell you on the fact that you have damage that can easily be fixed while you shop.  Sometimes they work in teams, have a wife and child, or family members to pull at your heartstrings.  They need the money and are willing to help you with a cash deal on a cheap quick repair!  They claim to be expert dent and ding repair technicians, however, dent nomads are professionals at one thing and that is scamming people out of there money and doing little justice to the dent or blemish they are asking to repair.
Are You Getting Scammed By A Dent Nomads?
You'll know you're getting scammed if you get the usual-explanation after your repair.  If when finished, you're asked to wipe off the paint or wax coating hiding what they just did to your car then you should be very concerned. The dent nomads will tell you that in an hour or a day later and it will be perfect. This couldn't be further from the truth. This coating is usually hiding hole drilled or paint damage pushing out the repair or plain hiding the damage they caused to your car. Their way of conning people has been going on for years and can be quite an organized outfit involving several people frequently moving from town to town so you can never find them again!

The Dent Nomads Setup?
They usually stake out a parking lot, scoping out cars entering the lot that have damage. Then the dent nomads find a car that truly needs work, they call in their partners to sell you on a quick fix. That's when the dent nomads vehicle approaches you with the enticement of being able to get your dent repair done cheaply while you shop or wait. The dent nomads promise a simple cheap repair then take your cash and leave to the next parking lot for the next victim!
You Can Tell When Their A Pro!
Do a little research, make sure you are using a professional paintless dent repair company. Ask to see a business license, ask for a website or an actual business card to prove they are a legitimate company. Don't fall for there silver tung or persuading demeanor.  Always remember that there work usually costs more to fix when you do have it repaired by a professional, reputable, Paintless Dent Repair Technician!
Dents that are the size of a silver dollar or less in size can be done in less than an hour. Hail damage: 1 to 3 days. Large whopper dents: 1 day. Paint repairs: 1-2 days.

Sid repaired the hail damage on my truck, probably 200 or more dents in 2 days and the truck looks great, can't tell there were ever any dents anywhere. He's really good at what he does and everyone there was super nice. Seriously, if you get dinged up, Sid is the man, don't even look anywhere else.  – Tim Edwards