Exceptional Hail Damage Repairs
Fast Repairs for Hail Damage
Along with being costly, it can take weeks for an auto body shop to fix hail damage on your vehicle. Killa Dent Removal can generally repair your hail damage within from 1 to 3 days and will save your factory finish, no sanding or painting required! Estimates are always FREE of charge.
Trust in our 20 years of experience and our 100% guarantee on work completed. Check out these videos of our recent hail damage repair work.
Get Help After Hail Damage
Hail damage is considered a comprehensive claim and won't increase your auto insurance rates. You should contact your insurance agent immediately after your vehicle has suffered hail storm damage.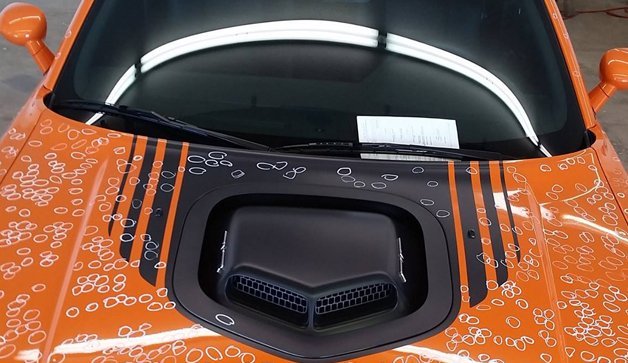 What to Do if You Are Driving in a Hail Storm
Living in a city that sees hail throughout the year is not something most car owners are thrilled about. The damage left behind to your vehicle can lead to costly repairs, but what's worse is the danger hailstorms pose to those who are caught driving in them.
Not only can it damage your car, but it also can impair your visibility and put both you and your passengers at risk. To protect yourself and others in your vehicle, there are a few things you can do to reduce your chances of injury or damage to your car:
Find shelter: The second you see hail, roll up your windows, turn your emergency flashers on, and decrease your speed. Small-sized hailstones might be pretty to look at, but they can quickly grow in size that can easily cause damage or harm. Make sure all passengers in your vehicle move away from the windows until you can find a shelter to park under.
Stay inside the car: You or those in your vehicle might want to venture out to get a better look at the hail once you've found shelter, but this is dangerous and can put you at risk of injury. The wind can easily shift and blow hailstones in your direction. It's best to stay safely inside the car until the storm blows over.
Check the weather: If you live in an area where hail storms are common, it's wise to take a peek at the weather before heading out. Though hail can be unpredictable, it doesn't hurt to be safe and overprepared. If you still get caught driving in a storm, be sure to check your phone if possible once you've sought shelter. Don't assume it's safe to head back out on the road at the first sign the storm is clearing. It could simply have shifted location or hit again a few minutes later.
After you've returned home and the storm has fully passed, you can assess the damage to your vehicle. Take any necessary photos for insurance purposes and contact Killa Dent for a free estimate.
The Impact of Hail Damage on a Car
Depending on the size, hailstones can cause significant damage to vehicles, leading to costly repairs and other unexpected issues. These are a few of the things you might find yourself facing if you reside in an area that experiences hail:
Expensive repairs: Depending on the severity of the damage, dents can be costly to fix. Dents can range from small and dimpled to larger craters and indentations.
Decrease in vehicle value: Though any damage and repairs can depreciate the value of your car, hail especially can be troublesome. Dents are costly to repair and take time, and some companies will scrape off the factory finish to apply a filler. This invalidates your car's warranty. This is why it's important to choose a shop that performs dent removal without compromising the factory paint.
Temporary loss of transportation: If your vehicle is your only means of getting around, waiting on hail damage repair can make getting anywhere in the meantime a nightmare. This is again why it's crucial to pick a business that can quickly and efficiently restore your vehicle without taking any unnecessary steps, like removing the factory paint. Killa Dent Removal can generally repair your car in 1 to 3 days without compromising the factory finish.
What Should I Do Immediately After Discovering Hail Damage?
Once the hail storm has cleared, it's time to evaluate the damage. If you find any dents, you should take photographs for documentation to give to your insurance provider. Most hail damage is covered under your vehicle's comprehensive coverage, but it's still wise to double-check with your insurer.
After you've taken proof of the damage to file a claim, you'll need to call a professional repair shop to have your vehicle assessed. Though your claim adjuster may give you an initial estimate, they are not always accurate.
Your insurance provider might also make suggestions on where to take your vehicle, but it is always up to you in the end to find a reputable shop that can handle the repairs. Killa Dent provides free estimates and will work with your insurance provider to ensure as much of the repairs are covered as possible.
How Does a Repair Shop Fix Vehicle Hail Damage?
Paintless dent repair, or PDR, is the most efficient and safe way to repair your vehicle without affecting the factory finish. This method protects the paint by using special tools to massage out the dent from behind. Though this is the preferred method, it's important to keep in mind that severe dents that are harder to access may require more traditional methods that require filling the cavity before repainting. Sometimes, an entire panel of the vehicle may even need replacing.
When Should I Start the Process of Hail Damage Repair?
Always call your insurance and have your car evaluated for repairs as soon as possible. If you wait too long, your vehicle could sustain additional damage on top of the hail dents, which could lead to more expensive repairs. It's even possible for the dents to get larger and more challenging to fix using PDR if another hail storm blows through, causing further damage.
If your vehicle has sustained damage due to hail, contact Killa Dent for fast, professional repairs. We can generally repair the damage in 1 to 3 days and always offer estimates free of charge.
Assistance With Your Insurance Claims
Your insurance agent will provide you with information about scheduling an insurance adjuster to assess the damage to your vehicle. The insurance adjuster will provide you with a claim sheet and issue you a check for the amount they believe it will cost to repair the hail damage to your vehicle.
If the amount of your insurance check does not cover the cost of our repairs, we can file a supplemental claim on your behalf with the insurance company. Remember, as a policyholder, you have the right to choose ANY company you want to repair your vehicle.
Dents that are the size of a silver dollar or less in size can be done in less than an hour. Hail damage: 1 to 3 days. Large whopper dents: 1 day. Paint repairs: 1-2 days.

Sid repaired the hail damage on my truck, probably 200 or more dents in 2 days and the truck looks great, can't tell there were ever any dents anywhere. He's really good at what he does and everyone there was super nice. Seriously, if you get dinged up, Sid is the man, don't even look anywhere else.  – Tim Edwards