Excellent Door Ding Repair Services
Door Ding Removal
Do you have unsightly dings on your car or truck from being pelted with hail, struck by shopping carts, or hit by foul balls? Killa Dent Removal can fix minor dents and damage to your vehicle with expert door ding repairs and no painting and no sanding ever!
We provide hassle-free repair expertise to help eliminate the stress of an already annoying situation. Please remember, the greater the damage, the longer the repair process take.
Because door ding repairs for most cases can be done within an hour, you'll be able to wait at the body shop for your vehicle to be finished. Why not relax and scroll the internet for an hour or meditate about your dinner options while we knock this problem off of your to-do list? Extensive damage can be a bit more time-consuming. Hail damage generally takes 1-3 days to fix.
All repair prices are negotiable, depending on the size or shape of the damage. Prices start at $75.00 per panel.
"I took my car and truck to Killa Dent removal and was very happy with the results. They do an amazing job at a reasonable price. I highly recommend Killa Dent removal and owner Sid Ganeles." – Terry J.
"Outstanding. All the reviews are true. I just came from their shop; I had no idea what to expect. I was given an estimate for 2 door dents that cost me way less than my insurance deductible. I can not even tell that there was any damage whatsoever. Door panel is flawless even when I use my hand to feel the surface. Service is fast, went in at 2 PM, I was done and out the door by 3:20 pm!! OUTSTANDING !!!" – Gerald C
How do we perform these miracles in such a short space of time? We use Professional Paintless Dent Repair. We don't use paint, sanding, or any chemicals to repair dings and dents. Check out our videos on Facebook if you want to see how it's done.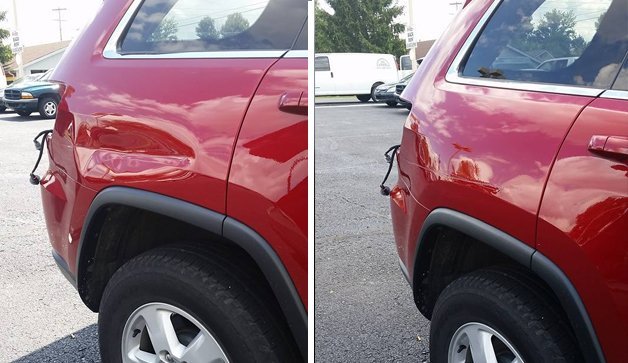 ​

Causes of Door Dings and What You Can Do to Protect Your Vehicle
There are so many ways your car doors can be dinged, but we'll remind you of some of the most common ones so you can avoid them.
Obviously, the most common problem is when other people in other cars open their doors too quickly in a parking lot. The solution? Never park. No — of course you have to park! Just try to park away from other cars and trucks. If a parking space seems a little tight, don't bother with it. Get a few extra steps for yourself for the day by parking further away from the store and walking.
Be extra aware of parking by other vehicles when it is gusty. The wind can cause someone's door to fly open much more quickly than they intended.
Watch out for shopping carts. Don't park by any loose carts that could be propelled by wind or gravity into the side of your car. Sometimes those things have a mind of their own, so try to choose a safe spot in the parking lot.
Avoid parking under trees during windy weather. Usually, small sticks won't cause any damage if they fall on your car, but who knows? There could be a squirrel with a cache of acorns and a vendetta lurking above.
A host of sports-related projectiles could damage your doors. Flying golf balls, frisbees, rubber balls — they can all cause dings. If you have the option at home, park in the garage. If you don't, then at least warn your children to be careful around the car.
Hail damage! This happens a lot, so it gets its own section.
Hail Damage
Are there any dings we can't fix? Hail no! Sorry, a little door ding removal humor there!
Seriously, we pride ourselves on being able to make your car look as good as new after Mother Nature does her worst. Did you know that Indiana is ranked 9th in the nation for the number of annual hail loss claims?  Indianapolis alone had 5 hail occurrences within 10 miles of the city center just last year.
Hail usually leaves tiny dents on the top, front, and back panels of your car, but the doors and sides of your car can be damaged as well if the wind is strong enough and the hail hits horizontally. As long as there is no cracking and we can get to the area behind the dent, we can remove the hail damage with PDR. (Larger hailstones may cause more drastic damage that isn't suitable for paintless dent removal service.)
If you don't have a garage or covered parking, you may consider investing in a hail-proof car cover. These are available to order online on many sites from about $36 to $449. Do your research before buying, though.
Hail Damage Estimates Are Free!
Hail damage is estimated using a national pricing guide, set up by combined insurance companies, based on the size and count of dents per panel.
Advantages of Fixing Your Door Dings at Killa Dent Removal
Admit it: looking at your dinged-up vehicle makes you sad! Fixing the dings keeps your car looking new and helps to preserve its value.
We have killa service! Our skilled technicians use specialized tools to fix your car quickly and professionally.
We also have killa prices! All repair prices are negotiable, depending on the size or shape of the damage. Prices start at $75.00 per panel.
Because we don't use paints or chemicals, we don't damage the environment.
Here's a review from one of our many satisfied customers:
"Took my car to Sid at Killa Dent Removal to get a door ding fixed. Overall, great experience: same-day estimate, easy scheduling, reasonable prices, quick service, and more importantly — quality work. The door is like new. Would recommend." – Stephen B.
Killa Dent Removal is locally owned and operated. We pride ourselves on our quality door ding and hail damage repair using Paintless Dent Removal (pdr process). We are proud of our 20 years of experience and excellent customer reviews.
Serving Indianapolis and the surrounding areas. Call 317-480-9433 or contact us online.
Visit our big facility complete with AC, heating, waiting room with TV, and FREE parking!
"I took my car and truck to Killa Dent Removal and was very happy with the results. They do an amazing job at a reasonable price. I highly recommend Killa Dent Removal and owner Sid Ganeles."
– Terry J.