Professional Paintless Dent Removal
Fabulous Auto Body Restoration
Killa Dent Removal's paintless dent removal techniques can restore the look of your auto body without painting, sanding, or the use of chemicals. That's right! No painting and no sanding! This effective method removes damage to your vehicle without affecting its resale value.
What Is Paintless Dent Removal?
Paintless Dent Removal (PDR) is an environmentally-friendly method of removing minor dents, dings, and creases from your vehicle's exterior by reshaping the panel, eliminating the need for filler or paint. The process removes this damage without affecting the factory finish on the car in a fraction of the time (often just a few, short hours) and at a lower cost (up to 60% less) than other repair options.
PDR is a specialist skill that requires an expert with experience to achieve the perfect dent repair as they must carefully manipulate precise locations of metal to the correct height in order to accurately restore the damage. Special painless dent repair tools are used to press and massage the damaged panel from behind, pushing the dented metal out and restoring it to its original shape. This repairs the bodywork while maintaining the manufacturer's paintwork finish.
Still don't believe it? Check out these videos!
What Is the Difference Between PDR and Traditional Dent Repair?
Traditional dent repair consists of filling in the dent with paint or body filler and then painting over it to match the rest of the vehicle's exterior. While this method can make a vehicle appear as good as new, it doesn't actually address the damage in a sustainable way. Traditional dent repair takes longer and is more expensive than PDR, and the fact that the damage is not actually removed can negatively affect the resale value of your vehicle.
Paintless dent repair (PDR), on the other hand, requires no fillers and no sanding and is potentially more effective because it addresses the underlying cause of the dent. As a result, PDR is faster, less expensive, and can be a longer-lasting solution for removing dents.
What Can PDR Handle?
PDR is used for minor dents, such as:
Shopping cart dents
Sharp dings
Crease-shaped damage
Collision damage — depending on the shape and structure of the damage
How Does PDR Work?
The PDR process involves four phases:
Phase 1: Assessing the Situation
The first step is the assess the damage by identifying the dents and determining their size and degree of impact. The technician conducting the assessment will consider factors, such as where the dent is located, how big it is, and how we can get to it. This is also when we can decide whether the damage can be addressed with PDR (80-90% of all dents are). We will then prepare the area around the dent for repair.
Phase 2: Gaining Entry to the Dent
In many cases, our technicians will need to access the area on the back side of the dent in order to remove it, which requires carefully removing body panels, taillights, and other parts of the car's exterior to get a pathway to the dent. Once we have access, it's time to perform the repair. This is where the precision and expertise of our trained technicians come into play.
Phase 3: Examining the Dent Up-Close
Like surgeons, our experts need to get a better view of the dent in question before they operate. To do this, we use a special light board that displays a shadow of the dent, which tells our technician where to precisely place dent removal tools on the back end of the dent to massage the body back to its original condition.
Phase 4: Massaging Out the Dent
At this stage, our technicians use special PDR tools to carefully apply pressure to the back side of the dent to massage the exterior back to its previous position.
Benefits of PDR
There are countless ways PDR can be the best solution for your vehicle's damage. Some of the benefits include:
Ability to remove dings and dents without causing damage to the original paint
Fast turnaround time due to the lack of a need for painting or finishing
Lower cost than traditional dent repair services
Works equally well with aluminum and steel panels
Eliminates paint color mismatches because PDR keeps the original paint job
An eco-friendly solution that doesn't release damaging chemicals into the environment
No need to make an insurance claim because PDR is often less expensive than your deductible, keeping your insurance premiums down
Works for small dings and large, shallow dents alike as long as the paint has not been broken
Maintains your car's value
Approved and used by leading car manufacturers across the automotive industry
Superior Paint Protection
The paint on your vehicle will never be compromised when you choose Killa Dent Removal. Our team never drills holes into your vehicle unless special access is required to complete repairs upon your request.
We know that getting a vehicle damaged is a hard thing to go through and is usually an unpleasant experience, so we will provide the best customer service possible. At our body shop, we strive to make this experience easy on you as possible and give you a speedy, high-quality repair. We vow to treat your vehicle like it was our own, and we always back our work with a 100% Satisfaction Guarantee!
Trust in the 20 years of hands-on experience our team has to get your vehicle back to its original showroom condition. FREE estimates are available. Call 317-480-9433.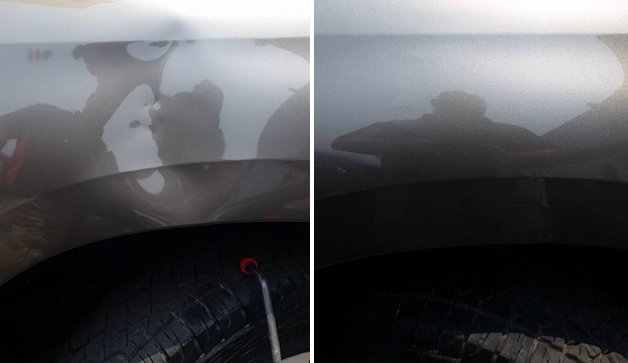 We offer affordable pricing for paintless dent removal compared to a regular body shop.
"Sidney at Killa Dent Removal was very helpful and did a great job! Great service at reasonable pricing!"
– Lindsey P.