Questions You Should Ask Before Having Paintless Dent Removal Done to Your Vehicle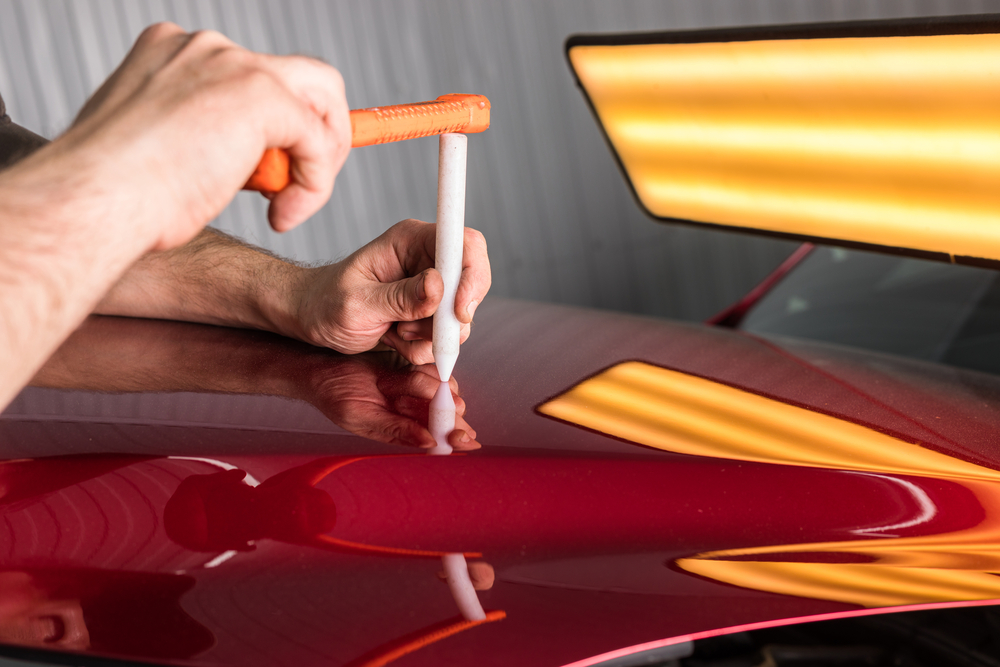 Your car is an extension of yourself. Not only do you want it to look good, but you also want it to maintain its value. When your car has a dent or ding, you want to be able to trust the professionals you hire to fix it perfectly. You probably have a regular barber or hairdresser, a regular GP, even a trusted mechanic — but most people don't have a favorite dent removal place, because they don't face dents and dings on a regular basis. What questions should you ask before you trust your vehicle to a paintless dent removal auto restoration shop?
1. Why is paintless dent removal (PDR) right for my car?
PDR is an environmentally-friendly method of removing minor dents, dings, and creases from your vehicle's exterior by reshaping the panel, eliminating the need for filler or paint. The process removes this damage without affecting the factory finish on the car in a fraction of the time (often just a few, short hours) and at a lower cost (up to 60% less) than other repair options.
As long as the paint hasn't been broken, PDR is the right choice because it:
Is approved and used by leading car manufacturers across the automotive industry.
Is able to revolve dings and dents without causing damage to the original paint.
Is cost effective.
Takes less time than other methods.
Now that you have decided on PDR, how do you find the right place? Be prepared to ask the following questions and to listen carefully to the answers:
2. Will I be able to use my insurance to pay for my PDR?
Yes, you will. PDR is an approved repair method by all major insurance companies. You can count on Killa Dent Removal to work with your insurance company to get you the repairs you need. However, you may decide not to make an insurance claim because PDR is often less expensive than your deductible.
3. How much will PDR cost?
A reputable place will give you an estimate before work begins. They will also be able to explain exactly what they are going to do so that you know what you are paying for. Keep in mind the fact that PDR has a much lower cost than traditional dent repair services.
4. Do you have reviews or testimonials that I can read?
Almost any business these days has a way of making customer reviews accessible to the public. It is crucial to know if other customers left feeling satisfied with price, wait time, quality of work, and customer service. For example, Killa Dent Removal's reviews reflect a variety of glowingly positive testimonials. They also have a 5 out of 5 star rating on Facebook from former customers.
5. Are you accredited by the Better Business Bureau?
The BBB supports truth in advertising and provides ratings from A+ to F. These ratings reflect:
Customer complaints
Type of business (does it improve or detract from the industry as a whole?)
The length of time the business has been operating reliably
Transparent business practices
At this point, we would like to proudly proclaim that Killa Dent has a solid A+ rating with the BBB! (Unless you think that sounds too conceited, in which case we will merely mention it humbly…)
6.  Do you guarantee your work?
Any business worth considering will confidently stand behind its work. You need this peace of mind before you entrust your vehicle to their care. Why would you take a risk with anyone else? At Kill Dent Removal, we vow to treat your vehicle as if it were our own, and we always back our work with a 100% satisfaction guarantee.
7. Do your technicians have experience?
A decent PDR business will be only too happy to tout the expertise and experience of their employees. PDR is a specialist skill in which special paintless dent repair tools are used to press and massage the damaged panel from behind, pushing the dented metal out and restoring it to its original shape. In many cases, technicians will need to access the area on the back of the dent, so they will have to carefully remove body panels, taillights, and other parts of the car's exterior in order to gain a pathway to the dent. Not just anyone can do that! Killa Dent Removal's technician team has over 20 years of hands-on experience.
At Killa dent Removal, we would be happy to answer any questions you have about the process of PDR in general or about our business specifically.
Get in touch with us today at: 317-480-9433 or contact us online.
Dents that are the size of a silver dollar or less in size can be done in less than an hour. Hail damage: 1 to 3 days. Large whopper dents: 1 day. Paint repairs: 1-2 days.

Sid repaired the hail damage on my truck, probably 200 or more dents in 2 days and the truck looks great, can't tell there were ever any dents anywhere. He's really good at what he does and everyone there was super nice. Seriously, if you get dinged up, Sid is the man, don't even look anywhere else.  – Tim Edwards