Questions to Ask When Choosing a Dent Repair Center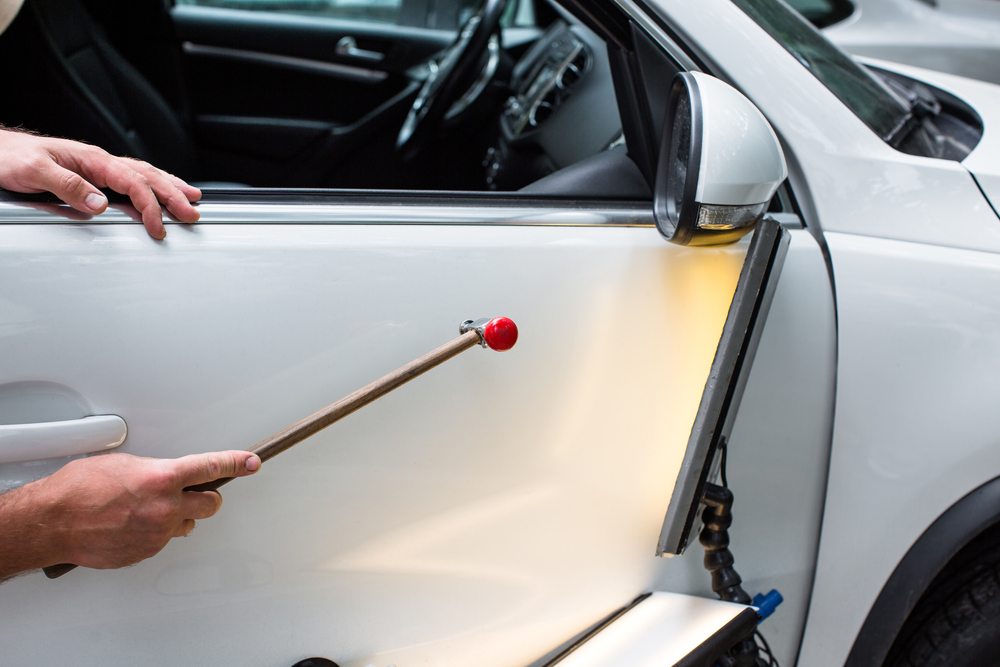 Your car is an investment, and no matter how much money you put into it, you deserve to have it repaired by quality professionals that you can trust. No two repair shops are the same and just because a shop has good reviews does not mean they are the best for the job. Though paintless dent removal (PDR) has been around for a while now, not all technicians are as skilled in PDR as others.
If your car is going to need dent repair, it's important for you to ask questions to ensure the shop you choose is one you can trust. Many car owners refrain from asking questions because they feel it's awkward or invasive of them, but a good repair shop will gladly answer your questions and understand your concern. A shop that is honest and happily answers your questions is a good sign that they care and are people you can trust to properly handle your vehicle and the repairs.
1. What is PDR and How Does it Work?
Asking upfront what exactly PDR is and how the dent removal method works will give you a good idea of how well-informed a repair shop's staff and technicians are. If a shop specializes in PDR, all of its staff and technicians should thoroughly understand what it is and how it works.
Paintless Dent Removal (PDR) is a more eco-friendly method of removing minor dents, dings, and creases from your car. The process is safer and cleaner for both the technicians and the environment because it involves reshaping the metal panels as opposed to using fillers made of harsh and noxious chemicals.
Technicians will carefully inspect your vehicle to find the best way to access each dent and then remove any necessary panels. Once they have better access, they will use a special set of tools to press and massage the damaged areas from behind, restoring it to its original shape. This method of repair does not damage the car's original paint finish and thus maintains its resale value.
2. How Experienced Are Your Technicians?
While there are no official certification programs for PDR, technicians should still have received proper training. PDR training programs often take a few weeks to complete and provide technicians with a thorough understanding of paintless dent removal and the techniques and tools needed to properly remove dents and dings from a vehicle.
Asking a shop about their technicians' experience and what kind of training they have can give you peace of mind that everyone there will know how to properly repair your vehicle. You want to ensure that the technicians on staff have extensive experience and that it is not a shop full of newer apprentices. If there are a lot of newer technicians with less experience, it could be a sign that the shop has a hard time hanging on to good quality technicians and thus may not handle your car with care.
3. How Long Will the Repairs Take?
If a shop is quick to offer you a solid estimate on time, it could be a sign that they are just throwing something at you off the top of their head. A good quality repair shop knows that they can never guarantee how long a repair will take. They may still offer an estimate based on their experience with certain types of damage and repairs, such as PDR, but they should be honest and admit that they can't say precisely how long it will take until they get a better look at the car and the extent of the damage.
4. What is the Cost?
Similar to the answer above, while a good repair shop with experienced technicians might be able to offer you a ballpark estimate based on other similar repairs they have done, they should not be able to provide you with a flat rate upfront. Shops that make promises upfront are usually inexperienced or are trying to entice you to choose them. In comparison, a quality shop shouldn't need to trick customers into choosing them and know that every repair situation is unique. They shouldn't be able to offer an estimate until they have had a closer look at your car.
5. What is Your Better Business Bureau Rating (BBB)?
While not everyone at a shop may know off the top of their head what their BBB rating is, they often keep things like this displayed on a sign somewhere in the window or in the entrance where customers can easily see it. If it is not readily available, you can look their rating up online. Either way, a professional and quality shop should have no issue providing you with their rating or with you looking it up yourself. If they seem hesitant, it could be because they know they have a bad rating or have received multiple bad reviews in other places, such as Google or Yelp.
6. Do You Offer a Warranty or Guarantee on Repairs?
Shops that know their work is good should offer some sort of warranty or guarantee on the repairs. This shows you that they are not afraid something bad will happen after the repairs are done and that they have genuinely put in the hard work to provide you with a quality fix. Shops that offer a guarantee should also be happy to correct any mistakes they make as they take pride in their work and know that it is on them if anything goes wrong.
7. Will You Work With My Insurance?
When dealing with car repairs, while your insurance may offer some suggestions, you have the right to choose whichever shop you want. Of course, insurers may try to convince you otherwise, as they often choose shops that will get the repairs done quickly and at a lower cost. However, it's your responsibility to choose a shop that you know will provide quality repairs, even if it costs a bit more and takes more time.
When you do pick a shop, they should still be willing to work with your insurance. This shows that they have plenty of experience dealing with all sorts of situations, including those involving insurance claims. They should be able to provide the necessary paperwork your insurer will need to process the claim.
Killa Dent Removal
At Killa Dent Removal, our team is happy to answer any questions you may have. Our technicians are highly trained and have years of experience dealing specifically with dent removal using PDR methods. Our technicians provide fast and efficient high-quality repairs with a 100% Satisfaction Guarantee.
For a FREE estimate, contact us today!
Dents that are the size of a silver dollar or less in size can be done in less than an hour. Hail damage: 1 to 3 days. Large whopper dents: 1 day. Paint repairs: 1-2 days.

Sid repaired the hail damage on my truck, probably 200 or more dents in 2 days and the truck looks great, can't tell there were ever any dents anywhere. He's really good at what he does and everyone there was super nice. Seriously, if you get dinged up, Sid is the man, don't even look anywhere else.  – Tim Edwards