Is Paintless Dent Repair Safe?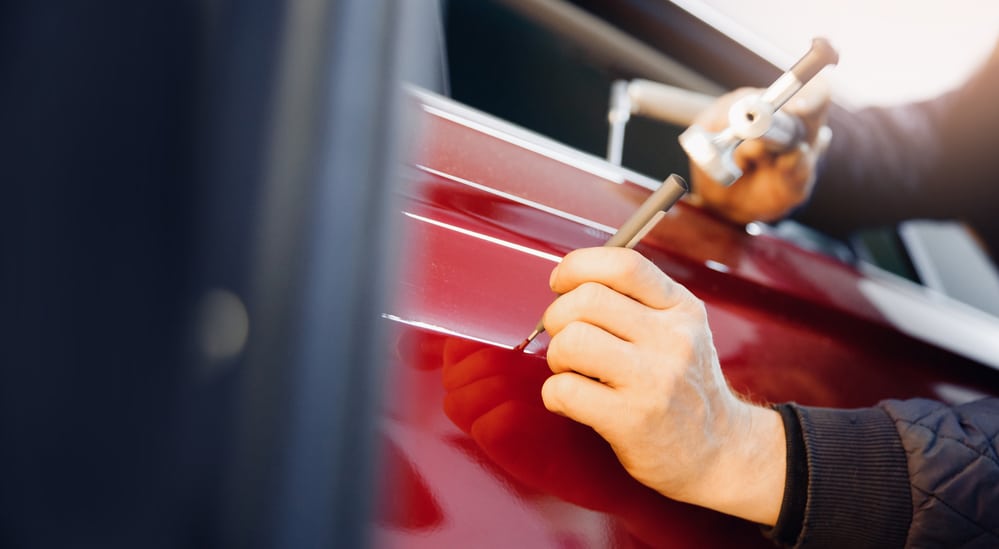 Paintless Dent Repair (PDR) is the preferred method for dent removal because it is a safer alternative to more traditional repair methods. When your vehicle has sustained damage, such as minor scratches, dings, and dents, you should always look for a repair shop specializing in PDR to ensure the value of your vehicle is not compromised. 
Not only is PDR safer for your vehicle, but it is much more cost-effective and better for the environment. Traditional repair methods involve sanding around the dent, using toxic fillers, and painting over the area—all of which take more time which means higher labor and material costs as well as releasing fumes from the chemicals into the environment. 
In contrast, PDR involves the use of special tools to simply massage and manipulate the metal body back to its original form. This can be done much faster, at a fraction of the cost, doesn't require the use of chemicals, and doesn't damage your car's original paint finish. 
Top Reasons Why PDR is a Safer and Better Alternative
When it comes to your car, you should always consider working with experts that have your best interest in mind. Shops that specialize in PDR understand the pitfalls of using traditional dent repair and will do whatever they can to opt for the PDR method as it is better for you and your vehicle as well as being more efficient and safer for the shop and technicians. 
While PDR is not always an option with more extensive damage, it is still the method of choice. Some of the top reasons you should choose a repair shop that specializes in PDR include the following:
Maintains the value of your car:

Paintless dent removal techniques do not compromise the body of your car or the original paint. A car's value can drop significantly when the body and factory paint finish are damaged. As PDR involves massaging the metal back to its original shape, it keeps the paint intact and protects the body's integrity. 
Safer for the environment:

As PDR does not require the use of harmful chemicals, like fillers, it is better for the environment. When technicians sand down your car and use fillers, it releases toxic fumes and particles into the air that can be harmful to the atmosphere as well as those in the repair shop breathing them in. 
A more precise and permanent fix:

Traditional repair methods may sometimes require ordering new parts that may not come from the original manufacturer or be built to certain specifications. The dents are also never technically removed with traditional repair; instead, they are left in place and simply covered up. 
However, PDR ensures that all parts of your car stay intact and the dent is removed more permanently by popping or massaging it out. There is minimal chance of the dent reappearing or popping back out. 
Comes with a lifetime warranty:

Most trusted repair shops offer a lifetime warranty on their PDR work. They guarantee that it is a permanent fix. If it is not, and something happens, you should be able to return to the shop to have the issue dealt with, free of charge. 
Saves you money:

PDR is safer for your car, but it is also safer for your bank account. Traditional methods are much costlier due to the extra time it takes and the materials that are required. In contrast, PDR specialists can often fix the damage in as little as a few hours, depending on the extent of the damage and how many dents need to be repaired. The less time it takes, the less expensive the cost of the repairs. 
Killa Dent Removal
If your vehicle has dents and dings that need repair, the experts at Killa Dent Removal can get you back on the road in no time. Our paintless dent removal specialists provide fast and efficient high-quality repairs with a 100% Satisfaction Guarantee. For a FREE estimate, contact us today!
Dents that are the size of a silver dollar or less in size can be done in less than an hour. Hail damage: 1 to 3 days. Large whopper dents: 1 day. Paint repairs: 1-2 days.

Sid repaired the hail damage on my truck, probably 200 or more dents in 2 days and the truck looks great, can't tell there were ever any dents anywhere. He's really good at what he does and everyone there was super nice. Seriously, if you get dinged up, Sid is the man, don't even look anywhere else.  – Tim Edwards