Is Paintless Dent Repair Environmentally Friendly?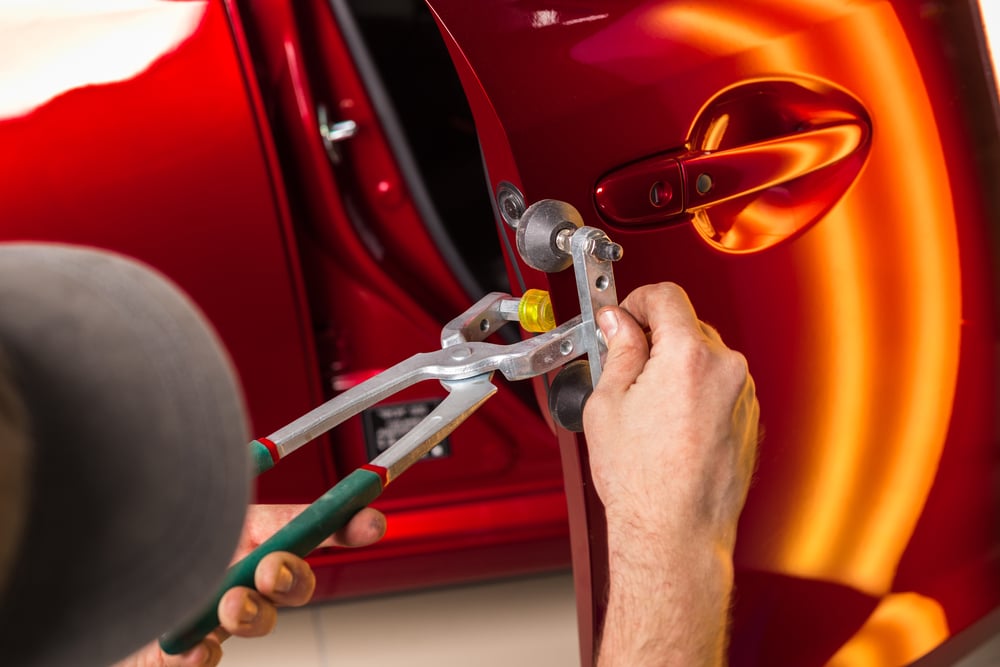 These days, consumers are becoming increasingly conscious of how their habits affect the environment. From the homes they build, to the products they buy, to the brands they support, everything is done with a sustainability mindset—and the car repair industry is no different. Though you might not think of vehicle repair as being environmentally friendly, there are some repair shops that are more mindful than others.
For example, some shops still prioritize traditional repair techniques which can be harmful to the environment, whereas others use more modern and safer methods, such as paintless dent repair (PDR). PDR is a great option for car owners with dent damage that are looking to reduce their impact on the environment as well as save money and protect the resale value of their vehicles. 
Though PDR is not always an option, depending on the extent of the damage, trusted and professional repair shops that use this repair method will carefully inspect your vehicle and use PDR whenever possible as it is the safer and preferred method. If your vehicle has minor dent and crease damage, you should always check that the shop you choose to work with has technicians skilled in paintless dent repair methods to ensure the best service possible.
How is Traditional Dent Repair Harmful?
Not only are traditional car repair techniques toxic, but they are often more expensive and take longer. If a vehicle has extensive damage, there may be no way around using traditional repair methods. However, some shops still use older repair techniques because they aren't skilled in PDR or because they want to be able to charge their customers more money. 
These conventional methods involve the use of power tools to grind and sand down car panels, which use up a lot of electricity and release small particles from the vehicle's exterior into the air. From there, technicians will use bonding materials and fillers made of toxic chemicals and release harmful fumes into the atmosphere. Once the dents have been reshaped and filled in, paint is used to cover the surface, releasing even more chemicals into the air. 
How PDR Benefits the Environment
Paintless dent repair is much safer for the environment, your car, and your wallet. It involves the use of special tools to massage the backside of the damaged car panel to reshape the metal back to its original form. Typically, this is done without using power tools that use up electricity and never involves the use of harmful chemicals such as bonding materials and fillers. Also, because PDR methods aren't as labor-intensive, they can be done more quickly and at a fraction of the cost. 
The environmental benefits of using PDR include:
Maintaining your vehicle longer:

PDR methods do not compromise the original factory paint finish on your car. Technicians simply reshape the metal back to its original form, meaning the car maintains its value and "new look" longer. The longer a car is maintained, the less likely the owner is to scrap it for a new one. This can help keep cars out of junkyards, which can be harmful to the environment, and reduce consumption as people do not have to buy new cars as often. 
No harmful chemicals:

Of course, one of the most significant benefits of PDR is that it does not involve the use of toxic chemicals that can release harmful fumes and particles into the air. 
No need for new parts:

Some shops that don't use PDR will order new parts for cars instead of repairing the dents. These new parts are then shipped via freight, and the freight transportation industry is a top contributor to gas emissions. The fewer parts that are ordered, the better. 
Killa Dent Removal
Though paintless dent repair is not always an option, it is the preferred method at Killa Dent Removal. Our highly trained PDR technicians are committed to delivering the highest quality of service, which includes taking the best care of your vehicle and using harmful chemicals as little as possible. We will thoroughly inspect your vehicle to evaluate the damage and use PDR whenever possible. 
If your vehicle has dents and dings that need repair, our experts have got your back. We provide fast and efficient high-quality repairs with a 100% Satisfaction Guarantee. 
For a FREE estimate, contact us today!
Dents that are the size of a silver dollar or less in size can be done in less than an hour. Hail damage: 1 to 3 days. Large whopper dents: 1 day. Paint repairs: 1-2 days.

Sid repaired the hail damage on my truck, probably 200 or more dents in 2 days and the truck looks great, can't tell there were ever any dents anywhere. He's really good at what he does and everyone there was super nice. Seriously, if you get dinged up, Sid is the man, don't even look anywhere else.  – Tim Edwards