How Paintless Dent Repair Saves You Both Time and Money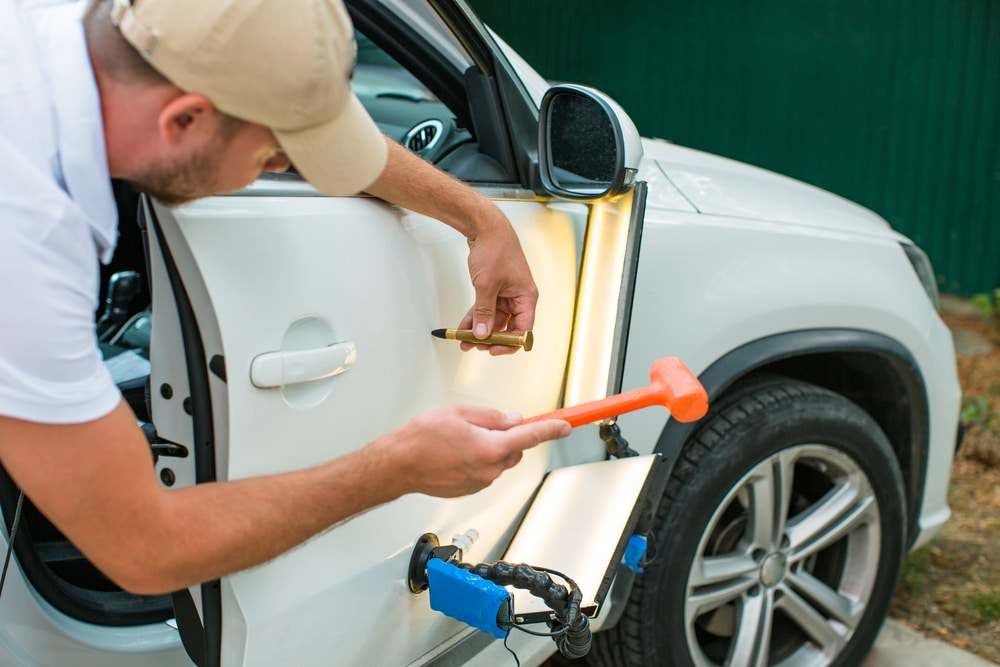 Car repairs are one of those things that we all loathe, but it is just something that comes with owning a vehicle—so we learn to deal with it. However, despite car repairs being a normal part of vehicle ownership, you do not have to always settle for costly and time-consuming repairs that can negatively impact your life. 
While some types of damages do require expensive repairs that take time, this is not the case for every situation. There are newer methods for repairing certain types of damage that can actually save you time and money. You just need to make sure you are taking your car to a shop that will use these newer methods and one that has your best interests in mind. 
Paintless dent removal (PDR), for example, is a more modern method of repairing dents that has many benefits compared to traditional methods. Though PDR has been around for years now, it is still not the preferred method at every car shop. This is because it takes time to train technicians to use new techniques, and repair shops know they can make more money using older, conventional methods. 
However, if you care about your time, money, and your vehicle, you should work with a repair shop that uses the latest techniques and genuinely cares about its customers. At Killa Dent Removal, we pride ourselves on providing superior service and are dedicated to using paintless dent repair techniques to restore your vehicle the most efficient and cost-effective way possible. 
How Paintless Dent Repair Works
Paintless dent removal (PDR) is an environmentally-friendly method of removing minor dents and dings from cars without compromising the vehicle's original paint finish. When a vehicle is first brought in, the technicians will evaluate the damage to determine if PDR is a viable option before they begin the repair process. 
Keep in mind that PDR is not always an option as more extensive damage does require more aggressive and invasive methods to fully restore the vehicle. However, shops that specialize in PDR do generally try to use this method as much as possible as it is better for the customer and the technicians because it is less labor-intensive and does not require the use of harmful chemicals like traditional repair methods. 
After the damage has been evaluated, technicians will decide how best to access the dent, which can involve removing panels from the vehicle. This allows them to use special tools to massage the dent out of the metal from the backside of the panels on the vehicle, ensuring that the paint finish on the exterior is not compromised. 
How PDR Saves You Time
The reason PDR is less time-consuming is that it is a minimally invasive method that doesn't require a ton of labor or drying time. Traditional dent repair methods involve sanding down the dent, filling it with fillers made from noxious chemicals, and then painting back over the spot. All of this takes more effort and a lot more time because after the dent has been covered up, the technicians must still wait for the repaired area to dry before returning the vehicle to the customer. 
If your car's paint finish is a special order or unique, it can also take time for the repair shop to find the right paint to match the original finish. With PDR, however, the technicians simply have to massage the dents out and then pop the panels back on. This still takes time and skill depending on the extent of the damage, but it is much less intensive than conventional methods which means your vehicle will likely be returned to you in half the time, or even less. 
And the less time you spend waiting on repairs, the more time you have for other things in your life. Waiting on car repairs can be an inconvenience, especially if you have no other way to get around. Additionally, the less time it takes to do repairs, the less money you will spend because labor costs go up the longer it takes to do something. 
How PDR Saves You Money
Aside from paintless dent repair saving you money because it requires less labor, it also simply costs less because it requires the use of fewer materials. Again, conventional methods use sanding tools, fillers, and paint to cover up the dent, whereas PDR simply uses a tool to pop or massage the dent out. So naturally, if your repair shop doesn't have to spend as much on materials, then they won't have to charge you as much for the repairs. 
In some cases, when traditional repairs take a long time, you may need to pay for a rental car, use ride-share services, or take public transportation—all of which will cost you more money on top of what you'll already be paying for repairs. But as PDR can be done in a fraction of the amount of time, you likely won't need to find alternative transportation methods, or at least not for as long as you would with traditional repairs. 
Killa Dent Removal
If your vehicle has dents and dings that need repair, the experts at Killa Dent Removal can get you back on the road in no time. Our paintless dent removal specialists provide fast and efficient high-quality repairs with a 100% Satisfaction Guarantee. For a FREE estimate, contact us today!
Dents that are the size of a silver dollar or less in size can be done in less than an hour. Hail damage: 1 to 3 days. Large whopper dents: 1 day. Paint repairs: 1-2 days.

Sid repaired the hail damage on my truck, probably 200 or more dents in 2 days and the truck looks great, can't tell there were ever any dents anywhere. He's really good at what he does and everyone there was super nice. Seriously, if you get dinged up, Sid is the man, don't even look anywhere else.  – Tim Edwards