How Did It All Begin? The History of Paintless Dent Repair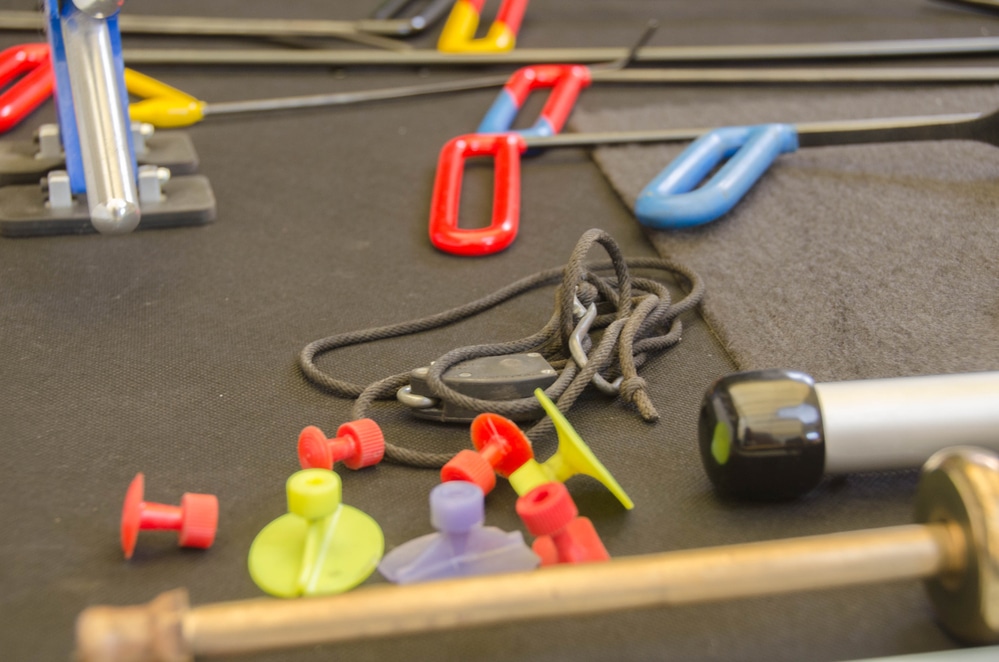 Paintless Dent Repair (PDR) is a modern method of repairing dents, dings, and creases in vehicles without compromising the paint finish. Some traditional repair methods involve sanding and harsh chemicals that can damage a car's resale value. In contrast, PDR methods involve tools that reshape the metal from the backside of the damaged panel, which is safer, faster, and avoids compromising the resale value by keeping the paint intact. 
However, though this method is considered modern compared to other traditional methods, the origins of PDR go back a couple thousand years. 
Ancient Origins
Paintless dent repair is said to mimic the ancient metalworking techniques of repoussé and chasing, which date back as far as the 3rd century BC. Repoussé was a technique used to shape malleable metal from the backside using a hammer. It was used as an artistic method to create designs and sculptures in reliefs. Chasing is the opposite, in that it uses a hammer to emboss metal by hammering it from the front side, making the metal cave in.   
1930s Metal Bumping
In 1931, a man named Frank T. Sargent used his knowledge of ancient metalworking to write a book titled "The Key To Metal Bumping." In his book, Sargent discusses how one might fix dents in a car using a paintless repair technique involving special tools. He discusses how to use the tools in addition to offering illustrations that showed how you could expect the metal to move and react. 
1960 Public Debut at Car Show in NYC
Nearly 20 years later, Oskar Flaig, a staff member at Mercedes-Benz in Germany, gave the first display of paintless dent repair at the International Motor Sports Show in New York City. Flaig's job was to keep the cars at the show in pristine condition. He would repair any dents, dings, or scratches that appeared throughout the show so the cars would look like new again the next day. 
In an effort to cut down on time, Flaig used a hammer to pop the dents out instead of having to use fillers and paints. When he realized how effective the technique was, he returned home to the Mercedes facility to start developing newer and better techniques and tools. 
Development of Official PDR Tools and Techniques in Germany
Upon his return, Flaig developed special tools and techniques that could be used for paintless dent repair. His work did not go unnoticed, and eventually, he was promoted to foreman at the Mercedes plant and was given the nickname the "golden tinsmith." From there, Flaig started various PDR training programs at all of the plant locations. The techniques became widely known and were used across Germany for years. 
1979-1983 PDR Comes to the United States
Sometime between 1979 and 1983, a German man named Juergen Holzer moved to Minneapolis, Minnesota to bring paintless dent repair to the United States. It was there that he started Dent Kraft—the first business recorded in the U.S. to have used PDR. 
PDR Today
Over the years, PDR has evolved and advanced into what it is today. This technique of using special tools designed to push and massage out dents is highly preferred by PDR professionals as it is a much more effective and safer method. PDR can save car owners time and money, and the tools used do not harm the environment the way traditional dent repair chemicals do. 
Killa Dent Removal
At Killa Dent Removal, our paintless dent removal specialists are dedicated to using PDR techniques to repair your vehicle without compromising the paint finish. We provide fast and efficient high-quality repairs with a 100% Satisfaction Guarantee. With 20 years of professional experience, our team can get your vehicle back to its original showroom condition.
For a FREE estimate, contact us today! Or call 317-480-9433. 
Dents that are the size of a silver dollar or less in size can be done in less than an hour. Hail damage: 1 to 3 days. Large whopper dents: 1 day. Paint repairs: 1-2 days.

Sid repaired the hail damage on my truck, probably 200 or more dents in 2 days and the truck looks great, can't tell there were ever any dents anywhere. He's really good at what he does and everyone there was super nice. Seriously, if you get dinged up, Sid is the man, don't even look anywhere else.  – Tim Edwards