Do Door Dents and Dings Rust?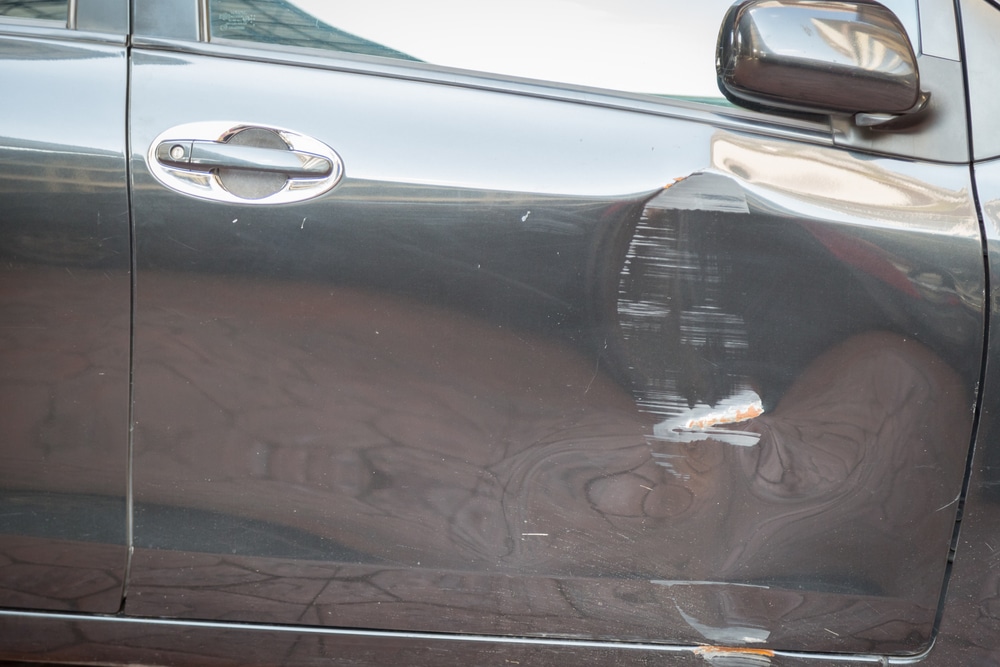 Dents and dings are common occurrences that are often unavoidable. If you own a car, you have likely experienced this type of damage. However, it's important for car owners to understand that even the most minor dents and dings can turn into an expensive problem. 
Understandably, you may not want to make a trip to the repair shop every time a small dent or ding appears. Often, car owners will wait until multiple dings have accumulated so they can deal with them all at once. Unfortunately, leaving dents and dings to sit can result in further damage that is more expensive to repair. 
If your car sustains damage, even if it's minor, it's always best to have it repaired as soon as possible. Contact your local dent and ding repair experts at Killa Dent Removal today for a free estimate.
Yes, Dents and Dings Can Rust!
While a small dent or ding might not initially seem that bad, over time, they can cause the paint on your vehicle to crack, and this is when rust can set in. When the protective paint on your car begins to crack, it allows water to seep in and come into contact with the metal body. 
When water and moisture seep in, oxidation occurs, which causes a breakdown of the metals. This process results in iron oxide molecules forming—also known as rust. Once rust forms, it can easily damage more of your car by causing more paint to crack, allowing more moisture to seep in. 
Not only will the rust spread, but your minor dents and dings can also stretch the metal and grow in size over time. So the longer a dent sits, the harder and more costly it will be to repair. This is why it's essential to have this type of damage dealt with as soon as possible. 
Avoid These Common Causes of Dents and Dings
Of course, preventative measures are the best way to keep your vehicle free of dents and dings that can begin to rust. Below are some of the most common causes of dents and dings that you should watch out for:
Hail damage

Falling debris from trees

Door dings from other cars parked too close

Shopping carts

Sports equipment (baseballs, golf balls, frisbees, etc.)
How Paintless Dent Repair Can Help
Paintless Dent Removal or Repair (PDR) is a process used to remove minor dents, dings, and creases from a vehicle using special tools to pop the damage out and reshape the panel. This method is preferred over traditional methods because it is fast, safe, and effective—and it doesn't compromise the vehicle's resale value. 
Traditional repair methods involve sanding down the car and using toxic chemicals to fill in the dent. This damages the vehicle's original factory paint finish, which negatively affects the resale value. The chemicals used in traditional repair processes are also bad for the environment as well as the technicians that inhale the noxious fumes. It also takes much longer to repair dents this way and costs a lot more due to time and the number of materials used. 
With PDR, technicians use a special set of tools to massage the backside of the damaged panel. This allows the metal to more naturally go back to its original shape. Fixing the damage this way also does not affect the paint finish, which means the resale value of your car is maintained. It also costs a lot less because it uses fewer materials and takes less time. 
Killa Dent Removal
If your vehicle has dents and dings that need repair, the experts at Killa Dent Removal have got your back. Our paintless dent removal specialists provide fast and efficient high-quality repairs with a 100% Satisfaction Guarantee. We use PDR methods to carefully and meticulously remove dents and dings from your car's exterior, ensuring the paint is unharmed. 
For a FREE estimate, contact us today!
Dents that are the size of a silver dollar or less in size can be done in less than an hour. Hail damage: 1 to 3 days. Large whopper dents: 1 day. Paint repairs: 1-2 days.

Sid repaired the hail damage on my truck, probably 200 or more dents in 2 days and the truck looks great, can't tell there were ever any dents anywhere. He's really good at what he does and everyone there was super nice. Seriously, if you get dinged up, Sid is the man, don't even look anywhere else.  – Tim Edwards