Benefits of Paintless Dent Removal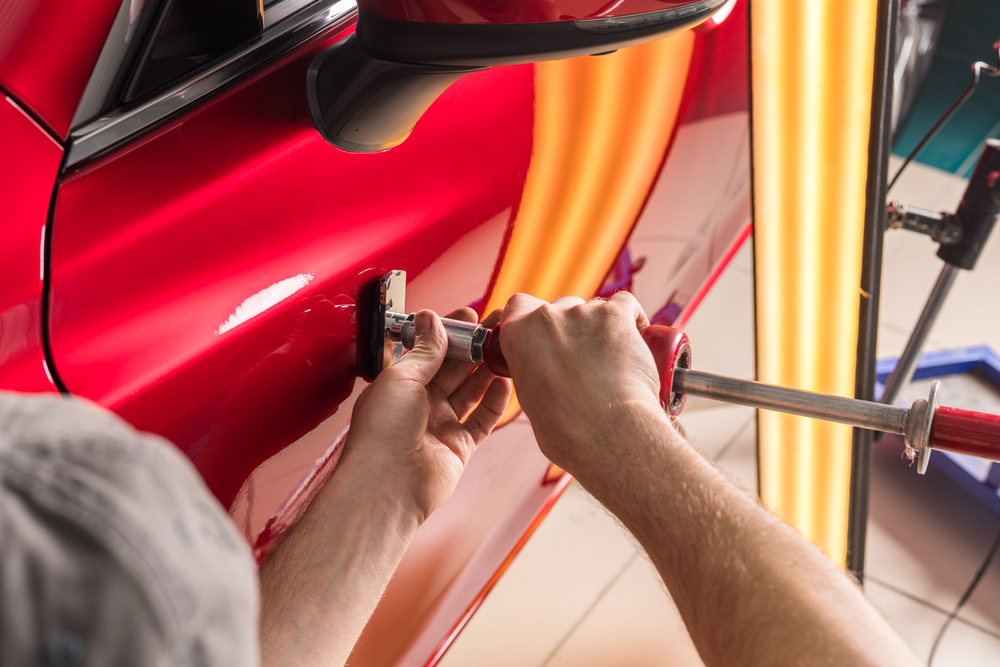 Dents and dings are a fairly common type of damage seen maring the exterior of a vehicle. However, despite dents often being a more minor type of damage, the way they are repaired can vary depending on where you take your vehicle. Most car owners assume that if the results look good, there is no reason to question the work that was done. Unfortunately, some shops still use more traditional and outdated methods to repair dents that can greatly affect your car's resale value.
When looking into having your car repaired, it's important to find a shop that uses paintless dent removal techniques. This updated method of repairing dents and dings can restore your vehicle without needing to sand or use chemicals that can affect your car's original factory finish.
What Is Paintless Dent Removal?
Paintless Dent Removal (PDR) is a method of removing minor dents, creases, and dings from a vehicle's exterior by using special tools to reshape the panel. PDR specialists will press and massage certain areas of the damaged panel from behind to manipulate the metal back into the original shape. By using this type of repair method, they can avoid compromising the factory paintwork finish and maintain the resale value. 
The Benefits of Paintless Dent Removal Versus Traditional Dent Repair
While maintaining the resale value of your car is one of the biggest perks of utilizing PDR, it is not the only way that car owners will benefit from this method. Traditional dent repair techniques typically involve sanding and using harsh chemicals to fill in the dent and then attempting to find a color match to paint over the filler. Whereas PDR uses a safer, chemical-free approach that actually addresses the damage instead of simply covering it up. In doing so, many additional benefits result from using PDR over traditional methods of dent repair.
Saves Time
PDR methods take a fraction of the amount of time (hours) since the technicians don't have to go through so many steps to repair the dent. Whereas traditional methods involving sanding, filling, and repainting can sometimes take days or even weeks depending on the number of dents needing repair. This saves you from having to rent a car or having to manage without one for days or even weeks every time you need dents or dings repaired.
Less Expensive
Labor costs often go up the longer it takes to repair a vehicle. With PDR taking much less time, this means you won't pay as much towards the labor required to repair the dents. Additionally, you won't have to pay more for materials used, such as filler, primer, and auto body paint.
Maintains The Value of Your Car
Many factors can affect the value of a vehicle. Typically, a car's cash value diminishes over time because of mileage and damage sustained. Even if the vehicle is repaired and looks new, the value can drop significantly depending on the repair methods used. Because PDR maintains the original factory finish of your car and doesn't require replacing any panels, it doesn't affect the resale value.
Environmentally Friendly
PDR avoids having to use paints, fillers, and other materials that contain chemicals that can release hazardous fumes into the atmosphere. By simply using specialized tools to remove the dents and dings from your vehicle, PDR provides a more eco-friendly alternative to traditional dent repair techniques.
Does PDR Work on All Types of Damage?
While paintless dent removal is the preferred method of reputable repair shops, there are instances where this technique is not applicable. PDR specialists and technicians will carefully inspect your vehicle and evaluate the damage to ensure you receive the best service possible. Types of damage that are typical candidates for PDR include:
Hail damage
Door dings
Dents or dings from shopping carts or other minor collisions
Sharp dings
Crease damage
Minor Collision damage – while PDR can fix some types of damage sustained from minor accidents and collisions, it all comes down to the shape and severity of the damage. If your vehicle needs extensive repairs, PDR may not be an option.
Killa Dent Removal
If your vehicle has dents and dings that need repair, the experts at Killa Dent Removal can get you back on the road in no time. Our paintless dent removal specialists provide fast and efficient high-quality repairs with a 100% Satisfaction Guarantee. For a FREE estimate, contact us today!
Dents that are the size of a silver dollar or less in size can be done in less than an hour. Hail damage: 1 to 3 days. Large whopper dents: 1 day. Paint repairs: 1-2 days.

Sid repaired the hail damage on my truck, probably 200 or more dents in 2 days and the truck looks great, can't tell there were ever any dents anywhere. He's really good at what he does and everyone there was super nice. Seriously, if you get dinged up, Sid is the man, don't even look anywhere else.  – Tim Edwards