What Damage Can Hail Do To Your Car?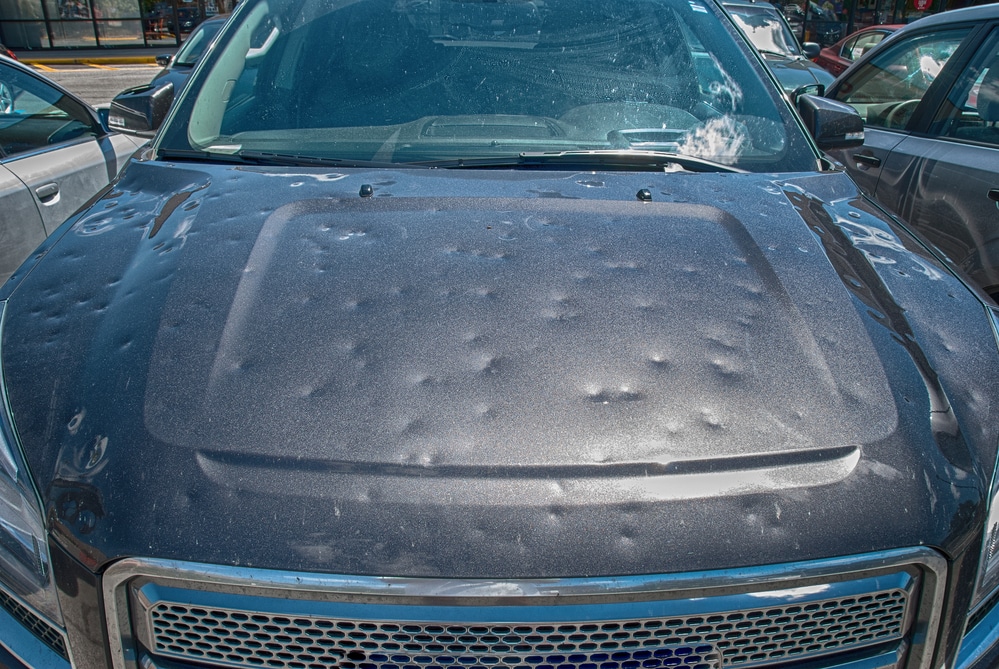 While some hail storms are brief and may only bring with them small hailstones that cause little-to-no damage, other storms are quite severe, leaving excessive damage in their wake. Unfortunately, living in the Midwest means car owners are more susceptible to experiencing hail storms that can damage their vehicles. Even small hailstones can leave behind minor dings and scratches that can worsen over time.
As frustrating as it is to continually keep up with repairs from hail damage, having repairs done as soon as possible is the best way to ensure the value of your vehicle is not compromised. The longer you wait, the harder it is for technicians to repair the damage. Luckily, there are newer methods of repair that make the process much easier and more efficient to tackle — not to mention being more affordable. So bringing your car into the shop for repairs doesn't mean having to wait days to get it back, and it's much easier on your wallet as well.
Common Ways Hail Can Damage Your Vehicle
The extent of damage can vary depending on the size of the hailstones as well as the power of the wind and the duration of the storm. The longer a storm lasts and the harder the wind blows, the more likely you are to experience more significant damage. If you live in an area known to experience hail storms, the type of damage you can expect to see includes:
Dents and dings: These are the most common types of hail damage. They can range from small, minor dings to larger indentations and crevices. While the smaller dents may only cause superficial damage to the body of your car, larger dent damage can impact your ability to operate the vehicle. However, if left unrepaired, the smaller dents can grow into larger indentations and can affect the metal memory, making it more difficult to repair. So no matter the size of the ding or dent, you should contact your local dent repair shop as soon as possible.
Paint damage: While it is more common for hailstones to fall and bounce on top of your vehicle, causing dents and dings, there are some cases when the hail can scrape against the body of the car — especially when wind gusts are stronger. The scraping of the hail against the vehicle causes the paint to scratch, crack, and even chip away. While some scratches may seem minor, if left unrepaired, the exposed metal of the car will begin to rust and spread over time. Covering your vehicle when it is exposed to the elements can help prevent paint damage from occurring.
Cracked windows and windshield: Cracks and even shattered glass tend to happen when the wind speeds are high; however, it just depends on the size of the hail and the angle that it hits your car. Even a storm with lower wind speeds can still result in broken or cracked windows or windshields. Similar to both dents and scratches, cracked glass is best to repair as soon as possible. Smaller cracks are easier for glass technicians to fill and repair. However, cracks can spread over time, and the larger they become, the more difficult they are to fix. If the crack has become too large, you may need to replace the entire window or windshield.
Broken headlights and taillights: Hailstones have also been known to crack and break headlights and taillights in vehicles as well. While many vehicle owners will ignore a cracked head or taillight, it is unadvised as driving with them broken is illegal. What may only be a crack now can easily turn into a completely shattered and broken light in the future. It's best to fix it right away to avoid getting a ticket.
Broken mirrors: If the hailstones are large enough and the wind is strong enough, they can completely break and knock the side mirrors off your vehicle. This is not as common, but it can happen. Even if the mirrors aren't shattered or missing entirely, the hailstones can knock them out of alignment. When entering your car after a hailstorm, you should check your mirrors and realign them if necessary.
Hail Damage Repair Methods
If your vehicle has sustained hail damage, you should take it to your local shop as soon as you can. As mentioned above, even the most minor types of damage can result in more significant damage down the road. Additionally, the body of your car retains something called metal memory, and the longer a dent goes unrepaired, the harder it will be to reshape the metal back to its original form.
Traditional Repairs
While updated repair methods are better for your vehicle, it is still necessary on occasion to use more traditional methods. Traditional repair techniques typically involve chemicals and fillers to fill the dents to create a smooth surface which is then sanded and painted over. Unfortunately, this compromises the original paint finish of the vehicle, which can affect the resale value. The chemicals used are also bad for the environment and unsafe for technicians to inhale.
While shops trained in newer methods will avoid this method if possible, some larger dents and scratches can only be repaired using these methods. Sometimes, if the damage is extensive, the entire panel of your vehicle may even need to be replaced.
Paintless Dent Removal
Paintless dent removal (PDR) is a newer technique that some shops use to repair vehicles without compromising the paint finish. This method uses special tools to massage and reshape the vehicle's metal body back into its original form. The process is much quicker and safer as it does not require fillers or paint, which take time to dry.
Depending on the extent of the damage, shops that use PDR can repair your car much quicker versus using traditional methods. In addition, as fewer materials are involved with PDR repair techniques, the cost is more affordable as well.
Killa Dent Removal
When considering where to take your car for repairs, it's important to note that not all shops have the tools and skills necessary for paintless dent removal methods. At Killa Dent Removal, we specialize in PDR. Our skilled technicians are trained in the latest paintless dent removal techniques, ensuring your vehicle's factory finish is uncompromised. With over 20 years of experience, we pride ourselves on delivering quality and efficient repairs with 100% satisfaction guaranteed.
For a FREE estimate, contact us today!
Dents that are the size of a silver dollar or less in size can be done in less than an hour. Hail damage: 1 to 3 days. Large whopper dents: 1 day. Paint repairs: 1-2 days.

Sid repaired the hail damage on my truck, probably 200 or more dents in 2 days and the truck looks great, can't tell there were ever any dents anywhere. He's really good at what he does and everyone there was super nice. Seriously, if you get dinged up, Sid is the man, don't even look anywhere else.  – Tim Edwards